CGsulit SC204 OBD2 CAN Diagnostic Tool Fault Code Reader Multi-languages
Product Description:
CGSULIT OBD2 Scanner Car Code Reader, SC204 Mini OBDII Diagnostic Tool for Vehicle Check Engine Light, Emission Analyze, View Freeze Frame, Smog Check, Car Health Monitor and Repair Tool, Black
About this item:
Multifunction Scanner ▶ The CGSULIT CS204 obd2 scanner as car Repair Tool can quickly obtain live data, check the I/M readiness status, turn off the CEL (check engine light), read and erase DTCs (engine fault codes), view freeze frame, on-board monitor test etc.. Meet your requirements for car diagnosis.

One Click I/M Readiness ▶ The CGSULIT OBDII code reader is specially designed for checking emissions readiness status for smog test. You just need through 1-click to know if your cars are ready for the smog test. The built-in beep speaker will indicate the status.

Turn Off Check Engine Light ▶ This vehicles code reader can quickly inspect your car and find the problem when your CEL(check engine light) is on, it also will help you turn off the CEL after the problem has been repaired.

Small Dimension and Portable ▶ 3.27" x 4.96" x1" mini design for portable and handy use, you can take it to anywhere you go. The car code reader can quickly retrieve the car information, including VIN, CID and CVN. The built-in DTCs library with 3000+ detailed definition, which will help you quickly to understand the specific problem. It is a necessary tool for on-road safety.

Wide Vehicles Coverage ▶ The OBDII code reader works on most US-based cars since 1996, Eu-based cars since 2000, and Asian-based cars since 2000 with standard OBDII/EOBD/JOBD&CAN protocol, and is compatible with all the OBD2 protocols: KWP2000, ISO9141, J1850 VPW, J1850 PWM and CAN. Support 5 kinds of language avaliable: English, German, French, Spanish, Italian.

Free Upgrade and User Friendly ▶ SC204 is a necessary tool for an automotive machinist and a family. It's also a great gift for Father's Day. No matter when you encounter a problem, you can use the coder reader to check suspicious or symptom-specific data parameters, ensure your journey security! They are life-long free upgrade online and will come with a 1-year warranty.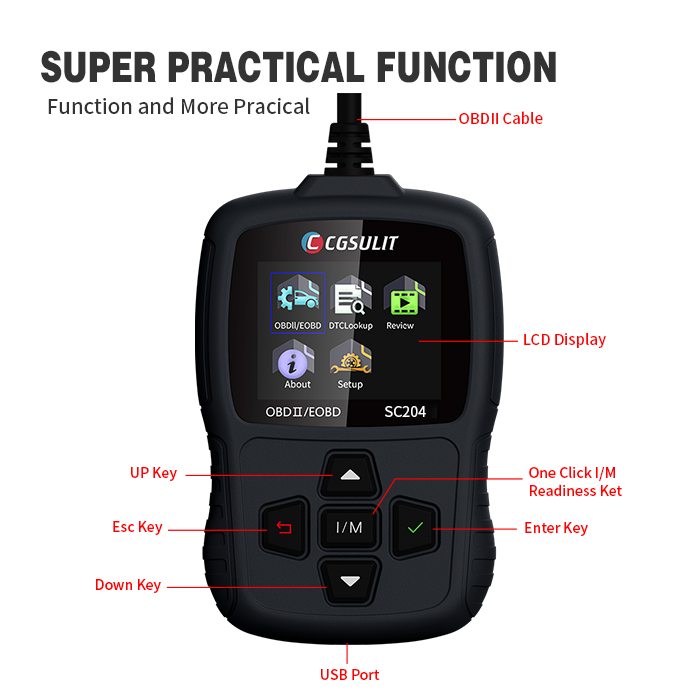 Functions:
1.Reading Codes: Show the detailed description of the Diagnostic Trouble Code (DTCs)
2.Erasing Codes: Turns off Check Engine Light (MIL), clears codes and resets monitors.
3.Read Live Data Stream: Show the information of continuous data stream from a vehicle in live graphic display.
4.View Freeze Frame Data: Check the certain vehicle conditions which are recorded by the on-board computer at the time the emission-related fault occurs.
5.I/M Readiness Status: Shows whether the various emissions-related systems on the vehicle are operating properly and are ready for inspection and maintenance testing.
6.On-Board Monitor Test: Retrieves and displays test results for emission-related powertrain components and systems.
7.Component Test: Allows the code reader to control operation of vehicle components, tests or system.
8.Read Vehicle Information: Display the information such as VIN (Vehicle Identification Number), CID (Calibration ID) and CVN (Calibration verification number), etc.
9.Modules Present: The codes reader identifies module IDs and communication protocols for OBD2 modules in the vehicle.
10.Unit of Measure: Opens a dialog box that allows you to choose between US customary or metric unites of measure.
Package Includes:
1*CGSULIT SC204 Scanner
1 * User Manual
1 * Warranty Card
---
We Also Recommend
---